Business Degree in Management
As a management major, you acquire the necessary knowledge to contribute to the success of whatever organization you choose to join, whether private, public, or not-for-profit. Students learn current information about the practice of business management, build problem-solving and communication skills, and grapple with the ethical implications of managerial work. With the management major, students can minor in any area which complements their interests. This degree is a doorway to the business world!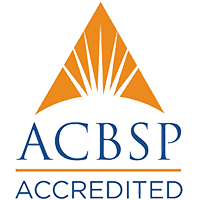 The McLane College of Business program in Management is accredited by the Accreditation Council for Business Schools and Programs.
Madison Warner
Student
I am currently hoping to pursue a career in logistics and supply chain management with an international distribution company, working in a warehouse. I also have aspirations to pursue my MBA and doctorate while working full-time.
Madison Warner
Student
Why should I choose Management?
Those who learn to manage well and faithfully find themselves always in demand and well compensated.
What are some Management courses I will take?
Negotiation
Non-profit Management
Entrepreneurship
Business Ethics
International Management
UMHB provides Inspiration, Mentorship, and Network
Kellee Beckworth '13 is a Clinical Project Manager for Colorado Access. "Being a part of the McLane College of Business allowed me to gain the recognized knowledge and skill sets needed for successful performance in my profession in healthcare," she said. "The relationships I was able to build with my professors during my tenure at UMHB were instrumental as they provided inspiration, mentorship, and a network to accelerate the beginning of my career."
What are some career options?
Management majors have thrived in these careers:
Project manager
Human resource associate
Entrepreneur
Team leader
Operations manager
Who is hiring UMHB students?
UMHB Management majors have found success in many different fields:
McLane Company
PDI
Enterprise
CGI Group
Baylor Scott and White
HEB
Where can I go to grad school?

UMHB Management majors have continued their education at these schools:
University of Mary Hardin-Baylor
Baylor University
Why study management at UMHB?
Management students have the opportunity to choose 60% of the management courses required for their major. This allows them to follow their individual passions and craft their degrees to best prepare them for the careers to which they feel called.
The management faculty at UMHB is made up of experienced business people with powerful academic credentials who are excellent teachers and focused on student success.
Management faculty members frequently lead study abroad trips to fascinating locations all over the world where students receive hands-on experience with international businesses, entrepreneurs, and non-profit organizations.