Marketing | Degree in Marketing
Marketers move the world forward. They develop new ideas, new products, new markets, and new channels. Businesses and non-profits alike rely on marketing professionals to grow them into the future. At the McLane College of Business, Marketing majors receive a broad-based, skill-centered education in all the major functions of a business enterprise and also are able to develop the necessary expertise to become a marketing professional.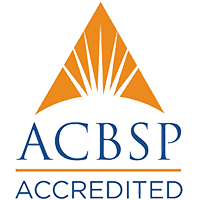 The McLane College of Business program in Marketing is accredited by the Accreditation Council for Business Schools and Programs.
Thomas Kinnin
Student
One thing I will take away from my college experience is how important it is to listen to others about their views and not to jump to conclusions.
Thomas Kinnin
Student
Why should I choose Marketing?
Marketers are in serious demand. They are paid to understand people, to communicate, and to exercise great creativity and rational analysis.
What are some Marketing courses I will take?
Marketing Through Social Media
Consumer Behavior
Event Marketing
Marketing Research
Mission-Based Marketing
Luke Nunnally
Faculty members care for students, even after graduation
Luke Nunnally '07 was always a businessman. As a student, he launched successful web-based businesses, and he credits professors at UMHB with recognizing and encouraging that entrepreneurial spirit. Today, as the founder and CEO of Squeaky Wheel Marketing, he works with businesses around the country to help them reach their goals through web development, video production, and search engine optimization. "I still talk to one of my business professors. I like to think big and go for home runs, and she's been such an encourager, even 11 years after my graduation."
What are some career options?
Marketing majors have thrived in these careers:
Social Media Marketer
Account Management
Marketing Manager
Real Estate Agent
Sales Manager
Marketing Coordinator
Online Marketing Specialist
Who is hiring UMHB students?
UMHB Marketing majors have found success in many different fields:
Hewlett Packard
Scott and White
GameStop
Fanatics, Inc.
Wilson Art
LinkedIn
Where can I go to grad school?

UMHB Marketing majors have continued their education at these schools:
University of Mary Hardin-Baylor
Texas A&M Mays School of Business
St. Mary's University
Oklahoma University
University of Texas at Austin
Why study marketing at UMHB?
UMHB Marketing students have opportunities to become certified in search engine optimization and to participate in competitive environments at collegiate conferences.