Economics | Major in Economics
Economics is the study of how society makes choices about our scarce resources. It also studies the behavior of individuals, firms, and governments. You will learn how the economy functions and how the government imposes economic policy. This study of the production, distribution, and consumption of goods and services is an indispensable tool for making sense of the intricacies of the global marketplace. It is also an excellent preparation for a future in business, banking, or the government, as well as for graduate school in law, public policy, and international studies.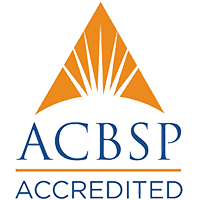 The McLane College of Business program in Economics is accredited by the Accreditation Council for Business Schools and Programs.
Matie Loeza
Student
UMHB has helped me grow by the connections I made with people. I have found community, support, and growth in the business department.
Matie Loeza
Student
Why should I choose to Major in Economics?
Economics prepares you to be a successful and productive person who excels in problem-solving, decision-making, and analytical skills.
What are some courses for economics I will take?
International Economics
Money & Banking
Contemporary Economic Issues
History of Economic Thought
Business Ethics
Economics Major | Degree Plans
Not Just a Number
As an assistant vice president in commercial lending, Aaron Slye uses the "real life experience" he learned from his professors to help him build trust and long-term relationships. "I find joy in finding ways to support our communities," he said. "I use what I learned from my UMHB education daily in terms of doing what is right ethically along with finding ways to best support my customers."

What can you do with a economic degree
With a degree in Economics, your future is open to many job opportunities:
Economic Analyst
Bank Officer
Business Consultant
Investment Advisor
Government Project Manager
Who is hiring UMHB students majoring in economics?
UMHB Economics students have found success in many different areas:
ING Financial
Department of Defense
Dell Technologies
Wells Fargo Bank
CGI Group
Where can I go to grad school with a degree in economics?
Economics students have continued their education at these schools:
Duke University
Baylor University
University of Texas
Texas Tech University
Texas A&M University
Why study economics at UMHB?
The Department of Accounting, Economics, and Finance sponsors an annual economics lecture series where three researchers visit the campus to speak with Economics students about their current research. A grant from the Charles Koch Foundation funds this program.
Thanks to a 50-year partnership with The Wall Street Journal, each Economics major receives an online Wall Street Journal account as well as a daily copy of the WSJ newspaper.
UMHB sponsors a chapter of the International Omicron Delta Epsilon (ODE) organization, an economics honor society. Members meet every two weeks in an informal setting to hear guest speakers and plan community and fund-raising events. The chapter has an account with KIVA.org through which members fund small loans for entrepreneurs in poor, developing countries.