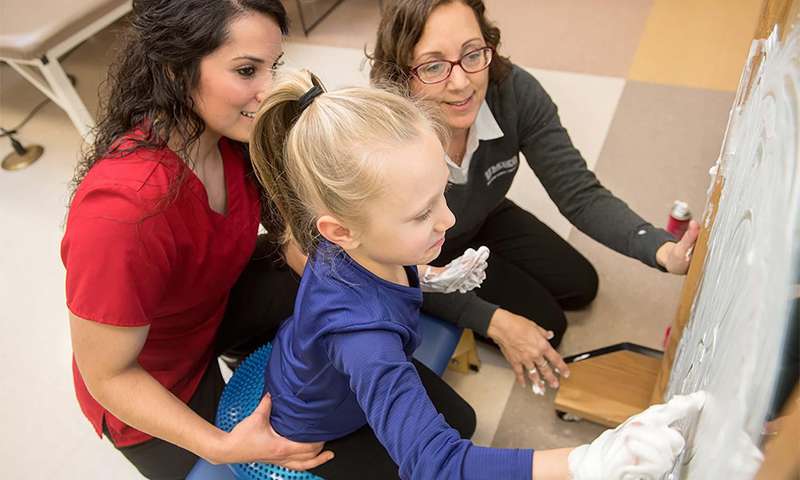 Vision
The vision of the UMHB Occupational Therapy Program is to prepare our graduates to meet the diverse and ever-changing occupational performance needs of local, national, and global communities through provision of high quality, compassionate, integrity-based occupational therapy services and commitment to lifelong learning.
Mission
To develop compassionate, well-prepared practitioners who possess a strong professional identity and love for lifelong learning and are prepared to engage in ethical evidence-based, entry-level practice, leadership, scholarship, and service. Faculty, guided by Christian principles, will provide UMHB occupational therapy graduates a foundation for excellence through
An innovative curricular design which engages students in experiential learning and facilitates the development of critical thinking and clinical/professional reasoning from program entry
Varied integrative learning activities and environments which encourage students to build on their prior knowledge and experience as they explore their unique contributions to rehabilitation, health, and wellness within a diverse and ever-changing society
Inter-professional education which promotes the development of collaborative, reflective and evidence-based practice across populations and practice settings and develops leadership skills
Dynamic, integrative educational activities within and outside of the classroom promote awareness of spiritual, moral, ethical, and legal considerations of practice and contribute to lifelong learning and development of professional identity
Emphasis on occupation as the central component to health, wellness, and participation in life
Master's Degree Level Occupational Therapy Program
The entry-level occupational therapy master's degree program is accredited by the Accreditation Council for Occupational Therapy Education (ACOTE) of the American Occupational Therapy Association (AOTA), located at 6116 Executive Boulevard, Suite 200, North Bethesda, MD 20852-4929. ACOTE's telephone number c/o AOTA is (301) 652-AOTA and its web address is acoteonline.org. Graduates of the program will be eligible to sit for the national certification examination for the occupational therapist administered by the National Board for Certification in Occupational Therapy (NBCOT). After successful completion of this exam, the individual will be an Occupational Therapist, Registered (OTR). In addition, all states require licensure in order to practice; however, state licenses are usually based on the results of the NBCOT Certification Examination. Note that a felony conviction may affect a graduate's ability to sit for the NBCOT certification examination or attain state licensure.
Page last updated June 30, 2021