Employer Resources
We are happy to help assist employers with finding the best Crusader for the job! Browse our employer resources and opportunities below, and if you have any questions, contact Career Services using the information below.
Post Jobs
Looking for great talent... Hire a Crusader!
Handshake links employers to students and alumni allowing job postings, internship postings, student resume search, job fair registration, and on-campus interview scheduling.

Mark your calendar and register now for upcoming Job Fairs in Handshake!
Register with Handshake today to receive these free services:
Visit one centralized online location to post and manage all jobs
Register online for career fairs
Conduct a student search for qualified UMHB applicants
Manage student applicants for interviews
Guidelines for Recruiters
UMHB follows the guidelines outlined by the National Association for Colleges and Employers that detail appropriate recruiting practices. We also have a more detailed set of guidelines specifically for employers recruiting at UMHB. Finally we work to comply with the new Federal Guidelines regarding internships. You can find each of these below, contact Career Services if you have questions.
Recruiting Opportunities
Services for Employers
Job Postings through Handshake
Annual Job Fairs
Jobs and internships on Handshake
Company showcase days
Complimentary use of interview rooms
Campus & school-wide search
Job Fairs
Annually up to 9 Job Fairs are hosted at UMHB. Your registration for the Job Fair is free of charge and includes a 6-foot table and chairs, free parking, refreshments, and a resume guide. Please create an account in Handshake to view upcoming Job Fairs and register today!
Company Showcase Days
A Showcase Day is for companies wishing to come on campus for a specific day to advertise their job opportunities. You can reserve an information table in the building of your choice, a room for an information session, and reserve interview rooms on campus. To select a date for your company to come to UMHB please contact us at (254) 295-4691. Please try to allow at least one week notice to allow time for reservations to be made.
Promoting Your Company & Recruiting Efforts
School & Department Notifications
On-campus Recruiting Days
Student Organizations
Partnerships/Internships
NACE Membership & Resources Available
Job Fairs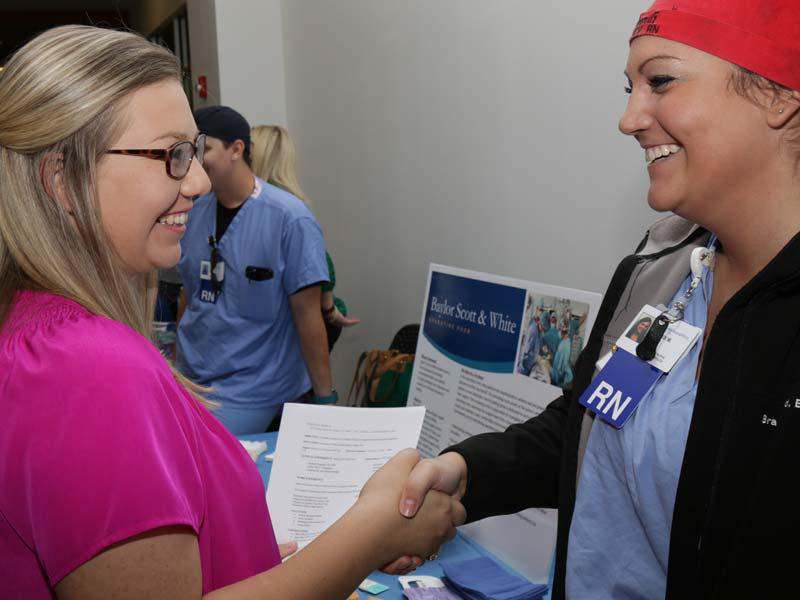 The University of Mary Hardin-Baylor hosts 9 Job Fairs each school year. All Job Fairs are free to attend and include lunch, parking, and a resume guide for recruiters. Please register to attend Job Fairs through your Handshake account.
Spring 2024 Job Fairs- Register Now in Handshake
February 8 McLane College of Business Networking & Job Fair 10-12:30 PAC Lord Conference Center
February 20 Nursing Job Fair 11-12:30 BSUB McLane Great Hall
March 21 Education Job Fair 2-3:30 PM BSUB McLane Great Hall
Job Fair Info and Registration
Campus Information
Here is some information for your visit to the UMHB campus:
Contact Information
Location: Mabee Student Success Center • Second Floor • Suite 202
Address: 900 College Street, Box 8415 • Belton, TX 76513
Office Hours: M-F • 8 am - 5 pm (Summer: 8 am - 4 pm)
careerservices@umhb.edu • Phone: (254) 295-4691
Page last updated October 16, 2023