Beall Hall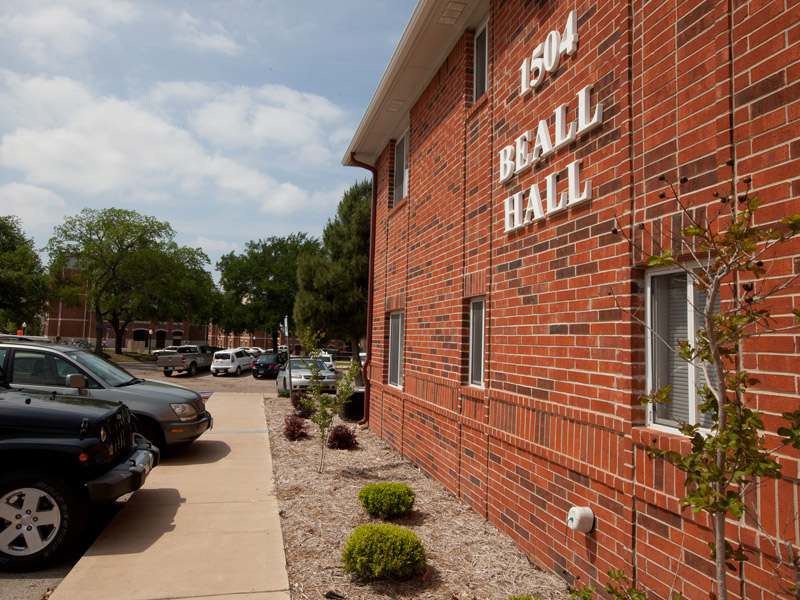 Named for Mary and James Beall, whose gift made the building possible, this hall was dedicated on February 2, 2001. The two-story building is really two buildings in one with rooms available on each side. Beall houses a total of 90 residents and is located on the northwest end of the campus, next to Independence Village, a campus apartment-style housing complex, and the intramural fields. It is also within easy walking distance to the dining hall, Mayborn Campus Center, and the academic buildings.
The design of the building is unique and features super suite units that the students refer to as "flats". Each of the flats is made up of a living area, kitchenette, dining space, three bedrooms, and three private bathrooms. The bedrooms are assigned as double occupancy. This facility also includes two lobby/TV areas, two computer labs, and two laundry rooms where laundry can be done free of charge.
Resident Assistants are assigned to each floor of the building and the Resident Director lives on-site. Building security includes a staff member on duty each evening until closing and a card access system for entry into the building after doors are locked.
Room Details
The room measurements are approximate, and there is a slight size variation in the three bedrooms in the flat. The standard bedroom size is 13' x 12' (156 sq. ft.).
The living/dining area is furnished with a couch, two chairs, an end table, a TV stand, a dining room table, and six chairs.
The kitchenette has a set of cabinets, a sink, a built-in microwave, and a full-size refrigerator.
Each double occupancy room has two twin beds with 80" mattresses, two chests of drawers, and an 8' x 6' shared walk-in closet.
Each room has a private bathroom.
Wireless internet is available in the building, and there are two internet jacks per bedroom and one in the living area. Cable and internet service are provided. UMHB Channel Guide.
Window sizes in the flat vary in the three bedrooms. See the floor plan for window sizes. Mini-blinds are provided.
Floors are tile in the living area and carpet in the bedrooms. The tile floors are a neutral shade, and the carpet in each bedroom is blue.
The walls are a neutral tone and are sheetrock. Students must check with the hall staff before hanging anything on walls or other surfaces within the room.
All furnishings are moveable, and the beds can be adjusted to create a loft for additional storage under the bed.
Contact Information
Location: Bawcom Student Union • Second Floor
Address: 900 College Street, Box 8006 • Belton, TX 76513
residencelife@umhb.edu • (254) 295-4590

Page last updated June 19, 2023