McLane Hall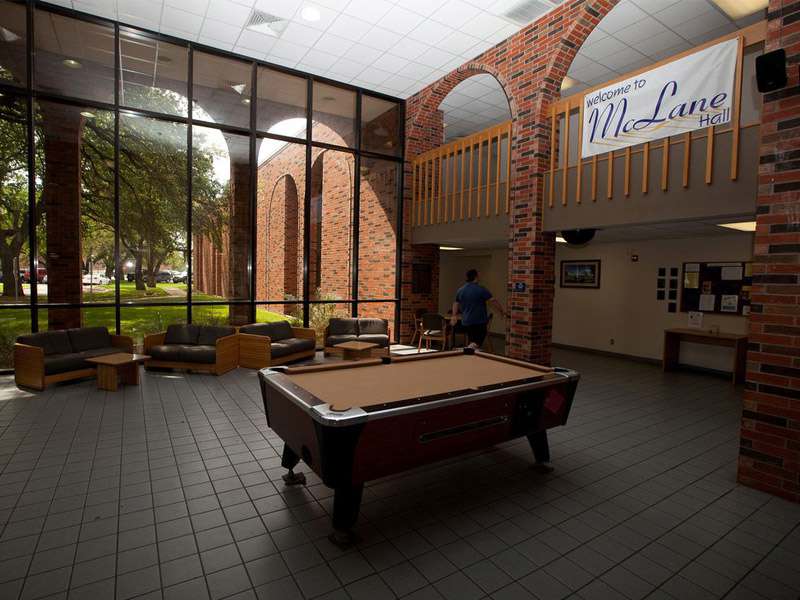 Constructed in 1989, McLane Hall is named in honor of Drayton McLane, Jr., a resident of Temple and former owner of the Houston Astros. One of two male residence halls on campus, this two-story facility houses 190 students. Located on the northwest corner of the campus, McLane Hall sits close to Hardy Hall and the Mayborn Campus Center which houses the gym, workout center, and recreational space. It is within easy walking distance to academic buildings and the library.
Features of the building include a computer lab, a large lobby with a pool table, laundry room where laundry can be done free of charge, vending machines, a meeting room, and two separate TV lounge areas. A block of rooms within the building are set aside for freshman honors program applicants.
Resident Assistants are assigned to each floor of the building and the Resident Director lives onsite. Building security includes a staff member on duty each evening until closing and a card access system for entry into the building after doors are locked.
Room Details
Approximate room dimensions are 15' x 14' (210 sq. ft.).
The shared room has two twin beds with 80" mattresses approximately 6 1/2" deep. The space for storage under the bed is only 12 ½ inches high.
Each room has two desk chairs and two desks (3' 6" wide x 4' 4" high) with a blue laminate top.
Each room has two chests of drawers with blue laminate tops. The dresser measurements are 3' 5" x 2' 6½", and each of the five drawers is 7½ " x 2'5".
Each resident has his own closet space. The closets in each room are slightly different in size. The first closet by the entry door is the smaller of the two. It has an interior of 4' 11" with a divider separating it into two 2' 4" sides, and the one by the window is 6' 7" with one side being 3' 4" and the other 3' 3". Both closets are 1' 7½ " (inside the door frame) 1' 11" (to the door) deep with two 2' doors on the closet. (There are a few closets in the building that are altered to accommodate building pipes).
The private bath is approximately 8' x 8' and has a shower and a large vanity.

The bathroom does not have cabinets for your towels or toiletry items. We have found plastic storage bins or drawers helpful (those with wheels are easier to clean around and under). The open space under your counter is 19 ½" high x 23" deep x 64" wide (you will need to allow for the pipes at the center of the counter).
Each shower has a basic white shower curtain, curtain rings and tension rod.

One large window is in each room. The window size is 5' 11" wide x 4' 5" high, with mini blinds provided. If you hang curtains, use a temporary mount coil or tension rod.

One microwave measuring 11 1/8" wide x 1'5 5/8" high x 9 ½" deep.
One refrigerator is included in each room; students must receive medical accommodation to bring an additional unit. The UMHB unit is 1' 7 1/8" wide x 3' 7 3/8" high x 1' 7 1/2" deep.
Floors are tiled in a neutral tone, and area rugs can be brought in.
The walls are a neutral tone and are sheetrock. Students must check with the hall staff before hanging anything on walls or other surfaces within the room.
All furnishings are moveable, and the beds can be bunked.
Wireless internet in the building and two internet jacks per room. Cable and internet service are provided UMHB Channel Guide.
Contact Information
Location: Bawcom Student Union • Second Floor
Address: 900 College Street, Box 8006 • Belton, TX 76513
residencelife@umhb.edu • (254) 295-4590

Page last updated September 12, 2023