Remschel Hall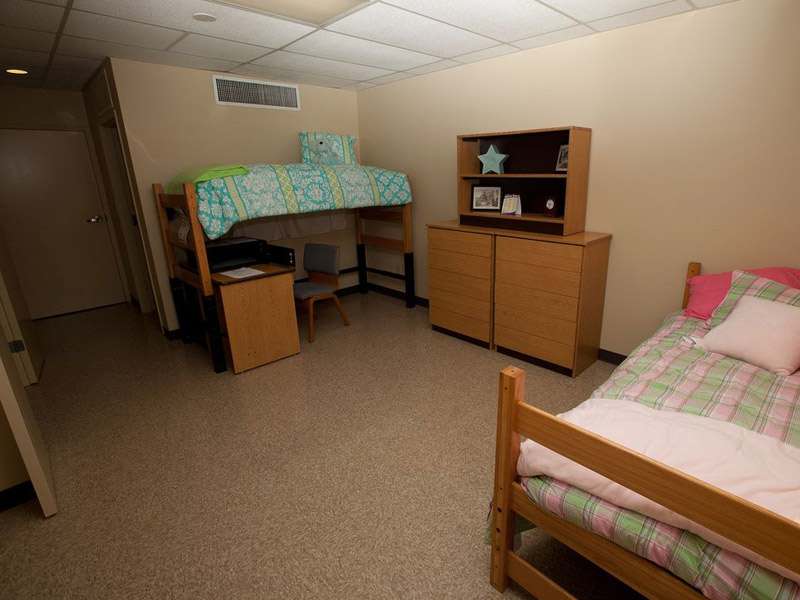 Named in honor of alumna Corrinne Remschel (class of 1931), Remschel Hall was dedicated on September 24, 1993. The large lobby is open to the second floor walk-way and is dedicated to the memory of Gene Daniel Skeen, an alumna of 1923. This four-story building houses 114 female residents and is centrally located on the quad putting it within easy walking distance to the dining hall, Crusader Café located in Mabee Student Center, the library, Mayborn Campus Center and all academic buildings.
This facility includes two lobby areas, study rooms on the first and second floors, a computer lab, two T.V. areas, vending machines, a large central laundry room where laundry can be done free of charge, and an elevator.
Resident Assistants are assigned to each floor of the building and the Resident Director lives on-site. Building security includes a staff member on duty each evening until closing and a card access system for entry into the building after doors are locked.
Room Details
Approximate room dimensions are 13' x 21' (273 sq. ft.).
Each room is furnished for two residents.
Two twin beds with 80" long x 6.5" deep mattresses.

Bed Heights (adjustable)
A lofted bed on the highest setting will be about 49"-56" from the floor to the frame.
A bed that is not lofted on the highest setting will be about 34" from the floor to the frame.

Two standard desk chairs and two desks, each measuring 42" long x 24" wide x 30" high
Middle Drawer: 20.5" long x 16" wide x 3" high

Cubbies: 15.5" long x 22" wide. The heights of the cubbies are adjustable.

Two 5-drawer chests of drawers 30" long x 18" wide x 41" high

Drawers: 26.5" long x 16.5" wide x 5.5" high
Most Remschel rooms contain this type of dresser, but damaged furniture will be replaced with items available.

Each resident has her own closet space.

Closet Shelves: 10.5" long x 12" wide - Heights are adjustable
Length from the inside wall to the shelves that run down the middle: 28" on both sides
Storage space at the top of the closet: 67" long x 12" wide x 19" high

Wireless internet in the building and two internet jacks per room. Cable and internet service are provided by UMHB Channel Guide.
The private bath is approximately 7' x 6', with a shower and a large vanity.

Open space under the vanity: 36" long x 20" wide x 24.5" high - This area is great for additional storage containers.
The cabinet underneath the sink: 28" long x 19.5" wide x 20" high
There is an opening between the shower and the toilet. If you want to hang an additional curtain for privacy in front of the toilet, here are the measurements of that space: 24" long x 80" high (standard curtain or shower curtain length would work perfectly for the height).

There is a double window in each room, and mini-blinds are provided

Rooms located on the 1st -3rd Floors: Inside casing: 5'11" long x 5'2" high
Rooms located on the Lower Level: Inside casing: 5'11" long x 2'4" high

One microwave (11 1/8" wide x 1'5 5/8" high x 9 ½" deep) is included in each room.
One refrigerator / freezer (1' 7 1/8" wide x 3' 7 3/8" high x 1' 7 1/2" deep) is included in each room
The walls are a neutral tone and are sheetrock. Students must check with the hall staff before hanging anything on walls or other surfaces within the room.
All furnishings are moveable, and the beds can be bunked.
Contact Information
Location: Bawcom Student Union • Second Floor
Address: 900 College Street, Box 8006 • Belton, TX 76513
residencelife@umhb.edu • (254) 295-4590

Page last updated September 08, 2023