Independence Village - Garner Hall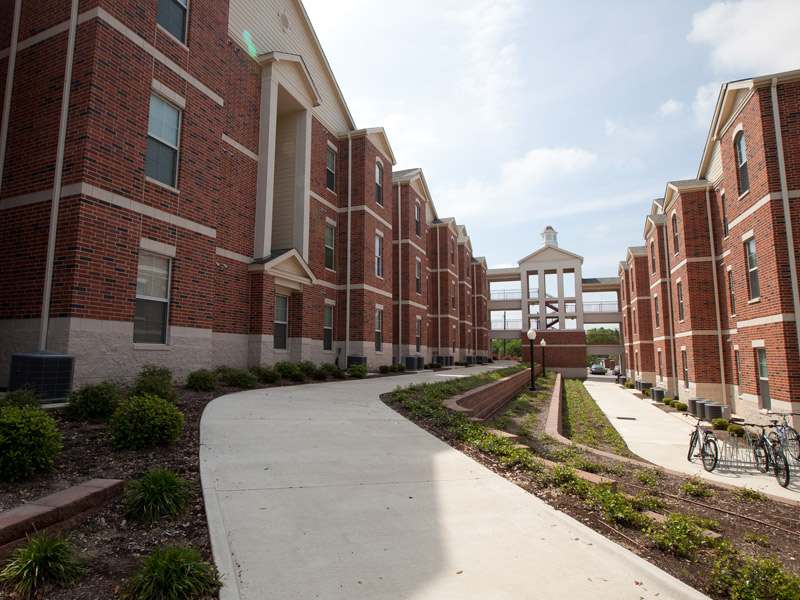 Known for years as Tryon, this complex of apartment-style buildings was renamed Independence Village in 2006 in honor of the birthplace of the university, Independence, Texas. Located on the northwest end of the campus, Garner Hall is the newest addition to Independence Village, added in 2010. The apartments house both male and female students. Garner Hall is a three-story building that offers the option of private bedrooms and are assigned with two residents.
Shannon Commons Buildings sits in the middle of the complex and services all of the Independence Village residents. The building houses the complex office and a large common room with a TV area, surround sound, pool table, kitchen, and seating area. Residents use this space for programs and events, or to just hang out or play pool. There is also a study room, a large computer lab, vending machines and a mail area for students to send and receive mail.
Resident Assistants are assigned throughout the complex and there are three Resident Directors living on-site. Campus Police patrol this area during the day and evening hours.
Room Details
Each apartment is 708 sq. ft. in size.
The bedrooms are 10' x 9' and come with a junior loft bed that is adjustable and an 80" mattress. The chest of drawers is on casters and is easily moved and will fit under the bed when it is raised to the top level. A desk and desk chair are provided and the desk is a split-desk design. The side pedestal is lockable and holds the CPU unit of your computer. This pedestal can be moved and used as a side table.
Beds are junior loft beds, which means they can be adjusted to create extra space beneath the bed. On the highest setting, the approximate space under the bed is 30", which allows the resident to place the chest of drawers under the bed. Bed lofts are also available to lease through Dorm Bed Lofts. This is the only company approved for lease of bed lofts by the university. Students cannot build or bring in other bed lofts but can use bed risers, which come in different heights and can raise the bed anywhere from 3" to 8". Dorm Bed Loft often experiences high volume and availability of loft kits can become limited. It is important to lease your loft kit early.
Wireless internet in building and two internet jacks per room. Cable and internet service are provided. Find information about the UMHB Channel Guide and Compatible TV Models.
The full kitchen includes a dishwasher, disposal, stove, full-size refrigerator, sink and kitchen shelves, and a built-in microwave.
The living area is furnished with a couch, chair, and dining room table and chairs.
There is a laundry room in each unit equipped with washer and dryer and storage cabinets.
Window and closet sizes are noted on the floor plan.
Floors are wood laminate in the living room and bedrooms and tile in a neutral shade in the kitchen, laundry area, and bathroom.
Walls are a neutral tone and are sheetrock. Students must check with the staff before hanging anything on walls or other surfaces within the room.
View Floorplan of Garner Hall
View Garner Hall in Virtual Tour
Contact Information
Location: Bawcom Student Union • Second Floor
Address: 900 College Street, Box 8006 • Belton, TX 76513
residencelife@umhb.edu • (254) 295-4590

Page last updated June 19, 2023