Lord Hall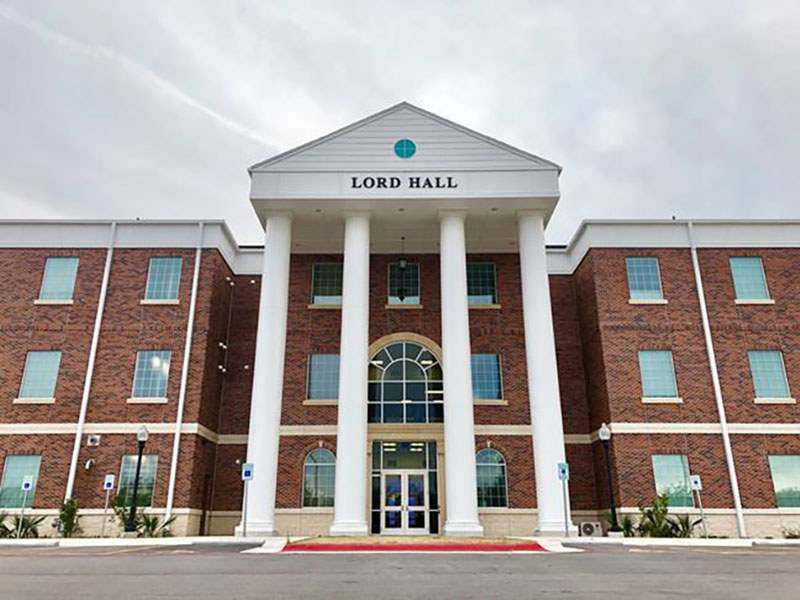 This three-story building will house 214 residents and is located conveniently close to Hardy Hall and the outdoor Sports Courts. It is within walking distance to Mayborn Campus Center, the Bawcom Student Union building, and all academic buildings.

This facility includes a large central lobby, study rooms on the 2nd and third floors, computer kiosks throughout the building, and two laundry rooms on each floor. Another great feature unique to this hall is a large common area on the 3rd floor that is equipped with a kitchen area. The kitchen will include a full set of cabinets, a sink, a full-size refrigerator, and an oven that students can use to bake.
Resident Assistants are assigned to each floor of the building and the Resident Director lives on-site. Building security includes 24/7 locking of all side and front entrances and card access on the hallway doors that lead to student rooms. Residents access the building and their own floor by scanning in using their ID card. A staff member is also on duty each evening.
Room Details
Approximate room dimensions are 13' x 12' (156 sq. feet). This is the bedroom area only.
The shared room has two twin beds with 80" mattresses (XL twin size), two desks (Length 44" x Width 24.5" x Height 30"), two desk side tables with a single drawer & open shelf (Length 24" x Width 14L" x Height 28"), two desk chairs, and two chests of drawers (Length 29.5" x Width 24.5" x Height 30"). There are two closets (Shelf Length 47" x Width 15.25" & Closet Floor Length 46" by Width 24") in the room, one for each resident.
Beds are junior loft beds, which means they can be adjusted to create extra space beneath the bed. On the highest setting, the approximate space under the bed is 30", allowing the resident to place the chest of drawers. Bed lofts are also available to lease through Dorm Bed Lofts. This is the only leasing company approved for bed lofts by the university. Students cannot build or bring in other bed lofts but can use bed risers, which come in different heights and can raise the bed anywhere from 3" to 8" inches. Dorm Bed Loft often experiences high volume, and loft kits can be limited. It is important to lease your loft kit early.
Wireless internet in the building and two internet jacks per room. Cable and internet service are provided. Find information about the UMHB Channel Guide and Compatible TV Models.
The private bath has a shower (31" x 30") and a toilet.
The single-sink vanity (Length 31" x Width 20" x Height 29") area is located outside the bathroom.
Each room has one window (Width 55" x Height 79"). A spring rod must be used to hang curtains.
The walls are sheetrock, and the paint color is a neutral tone. Students must check with the hall staff before hanging anything on walls or other surfaces within the room.
All furnishings are moveable.
Contact Information
Location: Bawcom Student Union • Second Floor
Address: 900 College Street, Box 8006 • Belton, TX 76513
residencelife@umhb.edu • (254) 295-4590

Page last updated July 21, 2023